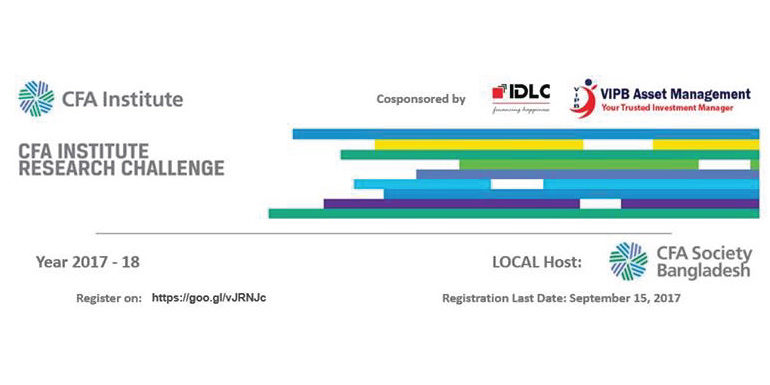 Hosted for the first time in Bangladesh, the CFA Institute Research Challenge in Bangladesh is a global competition that tests the equity research and valuation, investment report writing, and presentation skills of university students.
Introducing a unique type of competition involving more research, analysis and work behind the scenes instead of flamboyance and prodigal ideas was a big challenge. It required raising awareness before informing the potential target audience. Besides, this is an invitation only competition worldwide; but to involve more students the competition was declared open for all university students in Bangladesh. This meant added pressure to deliver results in terms of reach and participation. The competition also took place from September to November which is the business competition season in universities. More than 3 other country wide inter-university competitions were going on during the same time frame. Standing out in the crowd was an even bigger challenge.
A plethora of branding competitions have formed a stereotypical cluster in the minds of business students. Breaking out of that stereotype in a campaign stretching less than 1 month was a big challenge. So, our objectives were:
The primary objective of the campaign was to get 50+ application for the initial screening round.
The secondary target was to inform the financial leaders of tomorrow about the unbound possibilities of a career in investment banking and what it means to be a CFA charter holder.
The core idea was to communicate how rewarding a career in equity research and investment banking could be. And to promote CFA Research Challenge as the stepping stone to a bright future in the investment market. But the prime challenge was to get expected amount of participation using just Facebook as the platform. Since, all competitions do university campus roadshows first and then bring participants to social media; conducting the communications of a competition just through Facebook in a very limited time frame was a formidable challenge.
The execution involved 1 call to action video and 1 endorsement videos by industry veterans. It also featured a series of engaging posts which were designed around building awareness and interest first and then educating the target audience about the competition details. Firstly, the very short campaign had to illustrate what CFA institute is and inspire by referring to how rewarding it can be to be an equity research analyst. Then it had to describe the round details and all other complex details of the competition. The applicants were finally taken to a portal (http://rcinbangladesh.cf/) for the registration and submission process.
The results of the campaign surpassed everyone's expectations by a big margin.
A grand total of 97 applications were submitted for the initial screening which was almost double of the initial target of 50 applications.
A total of 485 students participated in the screening round of CFA Research Challenge Bangladesh.
The campaign served a total of 1.5 million impressions with a frequency of 5
A total of 32 posts were made during the course of the event
The portal got 1200 unique visitors boasting 1700 sessions
The home page of the portal was viewed 2172 times over the course of the event